Jyro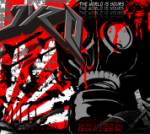 Started Topics : 8
Posts : 42
Posted : Dec 12, 2007 14:57

Quote:
---

On 2007-12-11 07:55, DETOX wrote:
Dear Jyro at least progressive music and "malakies" as you name them dont feature human skulls on their myspace webpage and dont force you to fight with any demons or take any journey into darkness.

Keep getting your influences from Noise and Thrash Metal and leave the others to get different influences from other kinds of music and promote different ideas.

In your website you say that we get born from darkness and die into darkness,well learn that between these two moments we live for many many years into light.If you like existing on this planet like a living dead surrounded by darkness then its your choice but please allow to the rest of us to enjoy the light of life


---
I didn't expect to give birth to such hard feelings,all I meant is that commercial music,like progressive,house stuff and 'malakies' are being played everywhere in Athens while Psytrance or DarkPsy is played nowhere apart from polytechnioupoli or private parties!

The good thing is that DarkPsy still remains Underground!
No hard feelinds Detox and as for the others who replied to my post with a bad mood I won't spend a sec for answering ;-P
And finally,for the ignorants:Dark is not necesarily evil..

Keep enjoying life guys!Stay away from the Darkness,you'll become baaaad!
Mouahahaaaa

DETOX
Moderator



Started Topics : 285
Posts : 6194
Posted : Dec 12, 2007 15:13

No hard feelings at all dear Jyro,after all we dont know each other,i just didnt like the term "malakies" that you used for other kinds of music.

One thing though,dont confuse psy trance with dark psy.

Psytrance is being played in Athens in many places,this weekend Prometheus and John Phantasm,next weekend Astral Projection and so on.These events are psy trance i guess.Psy trance was,is and will always be played in our city.

Dark Psy is not being played anywhere apart private or small parties and universities and that happens not because the music is underground but because not many people like this style of music for their own reasons.

Not all music styles that dont have a big fan base are considered underground,after all in the global music world psychedelic trance is underground since out of 6 billion people only 100-200 thousand people know its existence and only 20%-30% of them are active within the scene going to parties regularly and listening to this kind of music in their home.








Toodaloo Motherfuckers!!!!!

virava




Started Topics : 9
Posts : 620
Posted : Dec 12, 2007 17:49

darkpsy had been played to places except universities, both of you don t remember well.

also psytrance (pure psytrance, darkpsy and other tastes) is being played this weekend in polytechnioupoli.

dear detox astral projection are not anymore too psytrance in my opinion.








-_-_-_-_-_-_

www.myspace.com/viktoronmyspace <= mySpace-artist link

• _• • _f A C E S_ _f R E E_ • •_ •
-_-_-_-_-_-_-_-_-_-_-_-_