LeZuXxX
IsraTrance Junior Member



Started Topics : 14
Posts : 89
Posted : Jun 28, 2006 19:39

Quote:
---

On 2006-06-28 11:18, *Eskimo* wrote:
4 th dimension quiets the mind by providing listeners with a mental vacation. Mind Travel in the 4 th dimension will transport you to a variety of destinations within the comfort of your home or place you imagine. Whether it is a tropical rainforest, a cabin in the woods or the ocean, the Mind Travel will guide you on a mental journey to the location of your choice, allowing you to detach, relax and recharge.
If you can go there you have find your party LezuXxX.

Maybe you have right that this is not exist in our days but maybe you have wrong if you see it from another corner.

It is just in the person.



---
I meant around the corner because be4 that was easy to do 4 me. Parties provided that enviroment, nowdays i feel a little uncomfortable to "close my eyes n dance like nobodys watching me" "around the corner"....maybe ive got older. "Too old to trance n roll, but too young too die" Uve got me? 30 years now man!!!But u right its inside of u, not outside. As u can see some guys from the "new generation"(5 years till now) really dont understand what is it, its only music for them, nothing but music.

Sakiskimo
IsraTrance Junior Member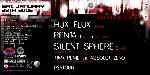 Started Topics : 22
Posts : 2012
Posted : Jun 28, 2006 20:34

I can understand your point man, even that i am in the age you have say ,not 5 but 6 or 7 years it's the same thing. My point was that is not the age but how you see it.(i mean the ppl ho decide to become trancers)A lot of ppl decide to listen to this music for the same reasons you have decide to listen.But we have a lot of ppl in our days ho have a diferent opinion and make all of as uncomfortable to "close our eyes n dance like nobodys watching as" "around the corner". You are not to old to roll the trance dance but to young dance the trance.(with the good point if you got me.)

Realy enjoy your quote.I have this thing in my mind the past days and know i see it more clear.

Cheers








(`·._.·
Everything interesting begins in the mind
·._.·´)