MadScientist
IsraTrance Full Member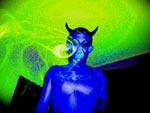 Started Topics : 97
Posts : 1220
Posted : Feb 6, 2003 17:21

one of the best vinyls since a long time...


A-Side: Neo Logic - In the Air (Saafi Connection, too)
my favourite, it's a really hard fullon-track with twisted melodies etc.

B-Side: Saafi Connection - Life goes on
very fast with cool melodies, typical saafi connection-sound!


a must have for every fullon-dj!! out on shiva space technology since last week!

boom!