aje
IsraTrance Full Member



Started Topics : 99
Posts : 1145
Posted : Jul 12, 2010 14:20:06

Woohooo, the Top Ten section is back! Bring on the unreleased KILLAAARRRGGHHHHHSSS!And it seems no one has posted here yet, so i get to deflower it. How cool is that, since popping cherries is one of my favorite hobbies, just ask around Moldavia for the big ugly german who hangs out in front of grade schools…



Anyways, this Top Ten pretty much sums up what I have been listening to on my MP3 player during these hot days of summer that saw the best team in the world, Germany, score twice as many goals as the eventual World Champion: Euphoric, melodic feel good music both old and new, best played and danced to on a sunny field with happy smiling faces all around. The below is in no particular disorder, except the first one, which is my abosulte favorite right now



!!!Vibrasphere – Purple – Tribal Vision!!!
The longer they are actively releasing music, the more I am coming to the realitzation that Vibrasphere are absolute geniuses. I don`t think there is any other trance act who has stayed so true to their unique sound, yet managed to re-invent it over and over again. If you listen to all of Vibraspheres albums in a chronological progression, its fascinating to hear the evolution in their sound architecture, but it is always 100% Vibrasphere beneath the surface. Purple is the latest step in this progression at only 125 BPM, and it is already one of my favorites. When the tweedling synth comes in at 4:52, I am overcome by a feeling of bliss a jaded asshole such as yours truly only experiences very seldomly these days



Union Jack – Yeti – Platipus
In preparation for Union Jacks live performance at Ozora I have been listening to a lot of their stuff lately, and this one is my favorite. No one can make the 303 soar like Union Jack, and here they take this artform to unprecedented heights. After more than 12 years, the last buildup is still breathtaking.

John 00 Flemming & The Digital Blonde – Melatron (Mindwave Remix) – JOOF
Modern commercial trance done right. The original is a bit too much for my tastes, but Mindwave takes it down a notch with a chunky progressive beat and a great melodic breakdown. I wish there was more music like this that exists in the grey area between goa, prog.psy and cheese trance.

Cass vs. Slide – Opera (Excession Remix)– FIRE
Last month I recovered my record collection from my friends basement, and came upon this haunting beauty. As the title suggests we are treated to distorted operatic singing, weird violin stabs, and after around 8 minutes to an arpeggiated melody that digs itself deeper and deeper into your brains happy place. Goosebumps guaranteed!

Even 11 - All Night Long (Original & Atmos Mix) – Tribal Vision
I am still undecided which of these two mixes is my favorite, but they both rock. The original is more melodic and raw, while the Atmos mix pumps along mercilessly to take the listener along on a cloud of dub chords.

Blue Planet Corporation – Crystal – Flying Rhino
After twelve years, it still sounds perfect. And 5 minutes into the track the IMHO most beautiful minute of music in the history of goatrance still takes my breath away. Now that I have my old Vynil back, I noticed that the grooves between Minutes 5 and 6 are actually much more worn out than the rest of the record, because I used to listen to just that one part over and over back in the day, hahaha…

King Unique – 20000 Suns – Bedrock
I imagine the making of this track went like this: "I gonna imitate the sound of a homosexual moose who just had his dick bitten off by a sociopathic badger on crack-cocaine, and then I will construct a track around that sound, and that track will get picked up by one of the biggest labels around, and it will be played in clubs around the world, and ravers off all kinds will be able to empathize with the poor homosexual moose and he won`t be alone in his pain!"

Transa – Prophase (X-Cabs Remix 1) – Hook
Another gem I found amongst my old records, this one is definiton of the sonic blanket. Makes me feel all warm and fuzzy inside



Antix - Let the Right One In – Iboga
The best track of Antix latest album, Lull with a 2010 sound aesthetic. Too bad it was the only track in this style

Ribn – Sins & Figs EP – Mild Pitch
Last but not least a little detroit/ dub techno. All tracks on this EP are awesome, as is everything Ribn does. If you like your dub techno to have a little more punch than Echospace, check it out.









Check out my album: http://www.ektoplazm.com/free-music/gay-satanic-hippie-tiefenrausch

Pavel
Moderator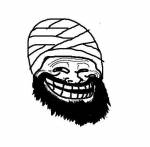 Started Topics : 312
Posts : 8642
Posted : Jul 12, 2010 22:19

KILLARGHHH TOP OMG OMG OMG




















Ok... I've been rehearsing this for a few years in front of the mirror and finally I can do it here again!
Any way, killer top bro! Union Jack is the shit! Dancefloor bombs one by one there!
Keep up the killer work!








Everyone in the world is doing something without me