sue
IsraTrance Junior Member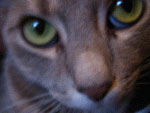 Started Topics : 23
Posts : 261
Posted : Jun 7, 2008 22:30:16

Interview made with Adam Hohmann aka Para Halu by www.baladaplanet.com.br

Original text in portuguese: http://www.baladaplanet.com.br/materias/materia2.asp?id=1271


To start this interview, what is the meaning of the name Para Halu?
In Hungarian slang Para is related to fear but in a funny way, and Halu is definitely a slang version of hallucination. It could be described as Paranormal Hallucinations, but really Para Halu does not have an exact meaning, it just sounds cool… sounds hallucinogenic.

In the last years, Para Halu stood out as one of the major names of psychedelic night trance. How you start the project, who already participated in Para Halu with you?
Para Halu was originally founded in March 2002 by Mark Bokay, Andras Fekete, Christian Steiner and me. I've met Mark back in 2001 to share some audio samples and movies and he introduced me Andras and asked if I feel like to make some cool psy-trance together. Christian was our mutual friend already, he was playing psychedelic trance as a DJ since the very early years and joined us to try new ideas. After one year of making tracks together and also separately, it became clearly pointless to continue the project with four members. Also, the majority of tracks were done by Andras and me, so in September 2003 we decided better to go on with only the two of us. Mark was already more into ambient and chill music, and with Christian I had two side projects that time, Diarrhoea and Mandrugorrah, where we tried to express more extreme ideas and created some really funny tracks too (some are still available for free download at www.parahalu.com). After Mark and Christian left the project, me and Andras continued working on tracks like "In Nomine" which became a big hit in its style and truly represented our direction back then. We wrote tracks separately as well: in fact we didn't produce too much tracks together, except the very early ones and collaboration tracks with Digital Talk and CPC. As time was passing away it turned out that our ideas also became different, and most importantly the relevant part of the producing and creative work was done by me anyways, so Andras also left the project after he made his contribution to "Wide Range".

This year you launched the album "Wide Range", in collaboration with The Path. How was this partnership, how was the process of recording, how much time working in the studio?
The idea of an album with Para Halu and The Path together came into my mind in spring 2006, even before recording the third Para Halu album "Space Rock". The Path was founded in September 2003 by me and Peter Takacs, another friend of mine. As a co-founder of both projects, doing an album together seemed very logical to me. The tracks are not collaboration tracks, they've been written separately and specially for this unique conceptual album. You can find 4 tracks by me, 3 by Peter and 2 by Andras. I've felt a lot of possibilities and potential in creating something new without any limits and boundaries, expressing real emotions, creating powerful sunrise vibes without being cheesy or conventional. "Wide Range" is a good example for connecting sub-genres together and showing different ideas on the same CD while still delivering a solid journey to the listener. This album is a nice ending and new beginning in the same time because after recording it both Para Halu and The Path got new form: I left The Path to continue alone with Para Halu and Andras quit Para Halu to work on his solo project, Mindflow.

This month you launch "The Future Sound Of Para Halu", third solo album. What kind of new influence you bring in this CD? What is the concept of this project?
Actually it will be the 4th full length Para Halu album. (There was a self-distributed album called "No Para Full Halu" with the early works of 2002/2003, some people still writing me trying to get a copy.) The works of "The Future Sound Of Para Halu" have already started last October but the release date is delayed to autumn 2008 because I had to take a little break while I am on tour in Brazil. The idea behind the upcoming album is to create high quality and varied psychedelic trance influenced by everything surrounding me including a lot of people, artists and genres from progressive rock to contemporary classical- and world music. I was using instruments like organ, piano, guitar and even ethnic vocals or symphonic elements and tried to mix it up with deep and intense psychedelic dance music in a progressive or sometimes experimental way. "The Future Sound Of Para Halu" is my reflection to the diversity of today's psychedelic electronica. Personally I never wanted to stick to only one sound or genre. Fusion is the future of electronic music: just open your ears and free your mind!

This year Halu Beats Records debuted with the first release, "Halu Beats vol.1." With a different style of trance, more calm. Who is responsible for the label? Intends to launch more songs in this style, more progressive?
The idea of the label was born the same time when the idea of Psylife Music and it was around the same time as well we started to work on the debut compilations for both labels. The main reason for starting this sub-label was that nowadays we really miss the fresh progressive yet psychedelic sounds and new interesting fusions from the slower side of electronic dance music as well. I am responsible for the music delivered by the labels and my partner Susan is dealing with the promotion and management works. "Halu Beats vol.1." will be followed by digital EP's and debut albums of our own artists from Hungary: Kalumet, Deto and me. The next compilation is expected to 2009.

How will be your live act in the Respect party, many new songs? In addition to the major festivals, you think its' difficult to find gigs in Brazil for artists who play dark trance?
I'm preparing a special live set for the Respect party, beginning with goa-trance inspired melodies and atmospheric tunes and ending with powerful, more intense night music to fit to the flow of the line up. You will be able to hear tracks from the upcoming album, never played live before this Brazilian tour. About finding gigs for dark artists I don't know, but of course it's harder to get into most of the parties if you are creating not so popular music. On the other side I never considered Para Halu as "dark", in my point of view it's deep and twisted psychedelic trance which moves not only the body but the mind too.

You are confirmed to present your music in Clash Club, in Sao Paulo. How will be this presentation, which style of trance music combines more with the atmosphere of a club?
I was asked to play a progressive psychedelic set in that club, so for the first time in Brazil I'll present my new side-project and the Halu Beats sound combined with more progressive Para Halu tracks in the end.

Which Brazilian producers of trance you know and admire their music?
Baphomet Engine and Wrecked Machines come into my mind first, and recently heard some tracks from Magma Ohm which I found interesting. Unfortunately I'm not so familiar with the rest of the Brazilian producers, but I'm looking forward to check out other projects like The First Stone and 28 cause I heard about them a lot lately but never had the chance to see them live.

In which countries in the world you believe that the night trance (dark and full on night) is more accepted and disseminated?
It's getting more and more popular everywhere nowadays but Russia and Japan are surely two of the biggest headquarters.

You come from Hungary, how is the electronic scene in Hungary compared to Brazil? Which styles predominate, there are many parties?
Scene is as the country itself, much smaller than Brazil, but definitely growing and evolving. Most of the times you can find progressive house/trance, minimal and electro parties in the capital Budapest. Psy-trance events are held almost every weekend as well, but the crowd is usually not more than 4-500 people, sometimes even less, except some very few parties with the biggest headliners that manage to get 1-2 thousand visitors sometimes. The number of festivals is growing as well, this year Hungary is hosting three serious psy-festivals: Bakony, No Man's Land and Ozora. Hungary is a country to pay attention to in the future for sure.










www.psylife.net