Templar^
IsraTrance Full Member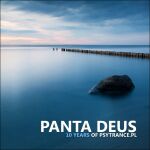 Started Topics : 105
Posts : 382
Posted : Jan 12, 2014 19:25:23

Mind Rewind 2 - Past Forward

DAT Mafia Recordings, 2013



CD 1

1. Excess Head - Another Planet (Mix 5)
2. Astronomix - Sirkka
3. OOOD & MoonWeed - Spiral Expansion (Live @ Pagan, Tyssen Street Studios, London, NYE 1995-96)
4. Zerotonine - Morning Glory
5. Kaledoid - Anjuna (Twilight Mix)
6. Ree.K - Far East Frequency
7. Etnica - Intense Visitation
8. Underhead - WhirlRain Of Water
9. MWNN - Moment Of Truth (Alternate Mix)
10. Total Eclipse - Toxic Caterpillar (Alternate Mix)

CD 2

1. Total Eclipse - No Name
2. Byte 1 - Dive 1
3. Infinite Zen - Goa Generator (Live Mix)
4. Subcouds - Greenflow (Remix 1997)
5. Somaton - Nool Sonrg
6. 33rd Rate Revolutionaries - Revolutionise (Mix 1)
7. RA - Static Distress
8. Tromesa - Nowina
9. Zerotonine - Superstring Material
10. The Infinity Project - Incandescence (Mix 2)

http://www.datrecords.it/dat/releases/va-mind-rewind-2-dmrcd02.html

Given the success of the retro-compilation called "Mind Rewind", its sequel was only a matter of time. Just like with the first part, an entire staff of enthusiasts and professionals worked also on this gem. One should simply mention those responsible for the cover design (Ivan Paric vel Richpa of Neogoa with the support from Draeke/DAT Records and Mars/Suntrip Records) or mastering - Colin from OOOD. The first "Mind Rewind" was pressed in 604 copies, here we are dealing with a print run of 1000 copies. I think it is for better - this great music will reach even more people and the profits will be higher. It should be noted that all profit related to the compilation goes for the MangoTreeGoa charity. And finally we have the most important thing here - the music itself. As usual we can find a whole lot of it here and it's the best quality, all served with a strong bouquet of ancient times, which, owing to such initiatives, were not forgotten and are doing pretty well.

On both discs we get of course some goa-athletes from the first part, but most of them here are new (old) faces. We start with Graham Wood of the TIP fame and his solo project Excess Head. "Another Planet ( Mix 5)" is a twisted variation on The Infinity Project tracks. Next we have the Astronimix due, which adds this time a much stronger and darker piece with a distinct edge. Frolicking in the third chapter are OOOD and MoonWeed, who delivered one of the best tracks on the entire compilation. "Spiral Expansion" is truly a feast for the advanced taste buds. Also the German Zerotonine gave us another show of their abilities. Here, just like in the first part of "Mind Rewind", they went into full goa mode. Kaledoid, namely Christof Drouillet and Fréderic Holyszewski, will remind you why Transwave once reigned when it comes to quick goa with dancefloor qualities. "Far East Frequency" was overshadowed somewhat by the much more famous colleagues, but do not let Ree.K's negligible popularity deceive you, because it's still a solid goa-candy. In the following track called "Intense Visitation" the Italian Etnica brings us closer to 1995, when they began to go crazy with their newly purchased toy called Kurzweil K2000, which in those days was a machine from the top shelf, and owing to which they assembled an edgy and acidic track . In the same year another track on this CD was conceived and you can hear it on the full sweep of the hypnotic "WhirlRain Of Water". The penultimate tune of the first disc is yet another gem from another dinosaur of trance scene - Man With No Name. What we get here is a variation on the well-known and well-liked track entitled "Moment Of Truth", originating from the album of the same title. This is another proof that in the hands of a specialist an Atari computer plus a few good cult synthesizers are enough to create a piece with a soul. All is topped with the appearance of Total Eclipse and their "Toxic Caterpillar " in a previously unknown mix. Simple and joyful, just like with with another track by the French masters which starts the next CD. Both tracks were created between the years 1993 and 1995. Under the mysterious name of Byte 1 we have Graham Wood and Xavier Morel. The former does not need any futher introduction, while the second one is known to be working with the likes of Juno Reactor or Eat Static. "Byte 1" is a very good and very psychedelic tune straight from 1996. The "Goa Generator" track by Nikolaos Betsimeas is without a doubt fulfilling its mission set by the track's title. Subclouds is quite a curiosity, because we have here Rickard Berglöf of the Vibrasphere fame and Fredrik Axelsson. One should listen to the music as it was and how much goa-flavored it was before the foundation of Vibrasphere. Next we have Seb Taylor a.k.a. Shakta under his Somaton moniker. His "Nool Sonrg" will take you efficiently into the times of his first albums. "Revolutionise (Mix 1)" by 33rd State Revolutionaries is a fast and edgy track with a strong acidic flavor, ideal for trancefloors to feel soreness in the legs. "Static Distress" by RA is a piece from the period circa 1996, when the sound of the group was still being shaped, so you can not appreciate its historical aspect, not to mention the track's light and simple flow. Number 8 is the Polish Tromesa duo (Magnes & Dreddy) and their "Nowina". I have no illusions about the fact that this is one of the most interesting tracks on this compilation not only because of its unconventional tone and flashback to the time of their first two albums, but because of the track's history set out in the booklet. In a nutshell: Magnes' mom accidentally threw away a bag of DATs, which also contained this track, later seemingly a victim of the abyss. In time, however, it was found, so we can enjoy it on this compilation. The penultimate word belongs again to Zerotonine - I do not need to add that the Germans once again showed their best side. We finish with The Infinity Project and their mysterious "Incandescence (Mix 2)", where the atmosphere is so dark and dense that you can cut it with a knife.

I consider the second part of "Mind Rewind" to be an extremely valuable thing, because once again it pleasantly tickles sentimental receptors in an incredible way and enriches my satisfaction derived from contact with psychedelic trance music. Thanks to it I quickly recall the feeling of getting to know trance music from first compilations and albums which fell into my hands on CDs, cassettes or in the form of files. I had this indescribable feeling that I am entering a vast world of many interesting artists and their music I would like to know. At the same time appeared a dream that one day I can embrace the whole world filled with these fascinating characters and their musical achievements. For many of us the luxury of today is to have a bit free time for ourselves. If you already have it, try to utilize it best - especially reaching out for this type of releases. Having contact with it will be satisfyingly juicy (the pleasure is all mine). Due to the baggage of history it carries and its atmosphere, the compilation is somewhat majestic, yet darker than its much brighter predecessor. Thus the second part of "Mind Rewind" finds its way to the golden pages of trance history right next to its precursor, as well as other similar releases such as the double CD albums entitled "Blue Planet Corporation - A Blueprint For Survival" and "Etnica - Live In Athens 1996". The third part has been already announced. What could be better? And in the meantime - past forward...








www.ektoplazm.com/2011/panta-deus - download for free Psytrance.pl's 10th anniversary compilation featuring 100% Polish psy-music (goa, prog, dark, full-on, chillout): Artha, Sundial Aeon and many more

www.psytrance.pl - Polish psytrance website