Basilisk
IsraTrance Full Member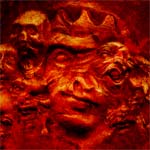 Started Topics : 168
Posts : 2984
Posted : Jan 14, 2009 00:52:35

Hello everyone! I've updated my list of CDs and vinyl for sale. Have a look:
http://www.discogs.com/sell/list?seller=Ekto-Basilisk&sort=artist%2Casc&limit=100

The prices are good and I will take offers on some of those items, particularly if you grab a bunch at a time! Anything I make from the sale of these gently used CDs and vinyl records gets dumped back into the Ektoplazm netlabel and web site. Every penny!