Kaz
IsraTrance Full Member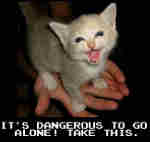 Started Topics : 90
Posts : 2268
Posted : Mar 27, 2004 13:59

Bored of a thousand chillout artists trying to do the exact same thing? Merck Records (with it's long list of very talented artists) bring us a wonderful CD from Esem, the accomplished, talented and orginal act from Bulgaria, one of the rare acts that does their very own thing without going overboard with glitches and noise. Yes, I am biassed in this review. Probably best defined as IDM rather than ambient, Esem showcase the darker and funkier side of chill-out in all their releases, bordering DnB at moments, touches of Ozric Tentacles styled psychedelia all with superb choices of sound and a lot of imagination - this being his first full length album on Merck.

01 Tjiccli - 5:11
02 Cee - 6:43
03 Bleece - 4:50
04 Swift Urban Departure Form What Was Once an Innocent Soul - 4:36
05 Sofiatram as I Hearit - 3:05
06 Square Lamp - 4:47
07 Outburst Nue - 5:21
08 Kyes Ivrload - 3:48
09 Scatterhaunted & Vellin Street - 5:38
10 Upward Instlr - 4:03
11 Alipe Lacks - 5:24
12 Tawn - 04:57

Starting off with a dramatic and flowing track, with a lot of touches of 80s electronica in the melodies, all while the funky percussion accent these in a wonderful way, Tjiccli opens this album in a very formal tone, but without sounding too pompous or presumptious.

Moving to a more laid back atmosphere, Cee takes the listener into a deep dive, with a heavily reverbed chord setting the tone for this track, giving a beautiful piece of music with a lot of emotion.

Bleece continues with the relaxed atmosphere and this time gives more in the way of a richness in the harmony, developing the theme slowly but surely, keeping the melodic touches surrounding everything, with a rather simple percussion giving a drive to the music. The bassline here is meldoic and deep, filling in the soundscape perfectly.

And now, for something completely different. A dramatic opening gives way for the flowing percussion work that makes Esem stand out so well, with the melodies this time there to accent the flow given from the rhythm, Swift Urban Departure Form What Was Once an Innocent Soul is much more upbeat than the earlier tracks of this album. While not as agressive as standard DnB, the usage of the melodic touches gives this track a lot of beauty that sinks into the listeners head in no time.

Dark industrial touches, strings, chaotic noises all kept very much under control, Sofiatram as I Hearit is less of a track in the common sense, but rather a piece of flowing sound, no percussion, no melody, but just a dark atmosphere being built in a really... odd flow.

One of my favorite tracks for the last year, more DnBish than the previous tracks on this album, Square Lamp starts with percussion games that leave an empty space which is filled by emotional strings and melodic work that at some point push the percussion (which is louder than basically everything else in the track) to the background, while the uplifting yet slightly sad melodic work takes charge, giving a mellow flow that just pulls the mind into the music.

Percussion and noise, dark and deep... A memory from the days when IDM was still considered a small part of ambient (as opposed to today, when if anything, it is the other way around). Outburst Nue doesn't have much in the way of standard musical taste, but the lack of glitches give the industrial strings much more of an accent than in most IDM tracks, and there's something there that I just can't put my finger on, but it's definately there and is amazing.

Kyes Ivrload combines simple melodic work, driving percussion and some of the IDMish noise to give a track which has the powerful flow that's a trademark in this album, giving a short yet potent story that is just pure braincandy while not agressive or daunting.

Back to the brighter side of the emotional scale, with the percussion being very creative yet placed deep in the background, Scatterhaunted & Vellin Street is melodic and uplifting than the last few tracks in the album, but more twisted than the first ones. Some would think that this would be a recipe for a brain damaging track, but no it isn't - far from it.

A mellow groove and powerful emotional harmonies define this track, giving a wonderful story. Upward Instlr already gives the feeling of an end, giving a very complete closure to it's atmosphere in the ending of the wonderful track.

Alipe Lacks goes even more downbeat, this time the melodic touches define the groove in a more dominant way than the percussion, deep and relaxing, developing on and on until we are left with just background noise (and a little bit of startling in the end).

Closing this album, Tawn starts off with the percussion, with sounds that strike as familiar from the earlier parts of the album, this is a true epilogue, besides the fact that as a stand alont track it is wonderful as well. A sense of waking up from a dream to a sunny day trying to push through a closed window, this track is just the beautiful end of a dream, soon to be forgotten.

What can I say. This album is amazing. I love each and every one of the tracks here, each track having a powerful flow and a story behind it, not going all over the place, not dabbling in excess effects and noises. Each track continues where the last one leaves off and develops in a new direction, or just an old one with a twist, giving this album a very complete feel. Pop it into your system, play, close your eyes and just listen. You won't regret it.

9/10, no less for the final verdict here. Yet some more proof that people can do their own thing and make it work in a way that no one has ever done before. I can't pick favorites here, except for maybe Square Lamp, but even that feels wrong without mentioning the rest of the album.








http://www.myspace.com/Hooloovoo222