MadScientist
IsraTrance Full Member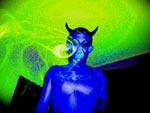 Started Topics : 97
Posts : 1220
Posted : Jul 10, 2004 02:51

pretty simple:
I'm searching for the first track of riktam & bansi's dj-set friday morning...



a friend told me it's GMS vs Absolum - The Therapy, but he wasn't suree...

did anyone recognize this one?
I would be very apprecated for any help...

thanx in advance!









https://soundcloud.com/hazak
"Have you ever had that feeling where you're not sure if you're awake or still dreaming?"
"Hmm, yeah... All the time, man - it's called mescaline. The only way to fly!"