para||ax
Para||ax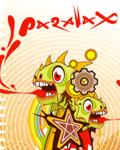 Started Topics : 6
Posts : 68
Posted : Sep 25, 2008 17:13:20

Hey all! I'd like to introduce you to the company I work for: 3D DECO

We are a dynamic team of designers and craftsmen that have worked on small to large scale events, exhibitions and custom installations. At our helm is our extremely charismatic and visionary driver Alosha Lynov. Starting out from decorating small raves in and around Johannesburg, he has grown 3D Deco into a powerful force within the events industry in South Africa.

We are online here: www.3ddeco.co.za

As a team we are constantly evolving and innovating to meet the requirements of those we work with. We have accomplished the realisation of completely immersive environments that at first seemed impossible! It is our dream and ambition to be able to bring our creative skills onto a global platform; to be able to learn and share within a greater sphere of inspiration.









http://biode.net
http://www.myspace.com/parallax01